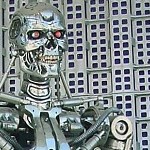 Watch most science-fiction these days and you won't fail to notice constant warnings about the inevitable and unstoppable rise of artificial intelligence (A.I.). But it looks like customer service agents should be getting used to 'artificial aggression' much sooner.
New Zealand-based tech firm Touchpoint has spent more than £230,000 developing an 'angry' software programme called Radiant. It will allow contact centres to run test scenarios using millions of pre-loaded responses based on real-life irate customer interactions and help agents improve their skills in the face of some of the most difficult and abusive customers.
Touchpoint CEO Frank van der Velden told The Australian: "The end goal is to build an engine that can recommend solutions to companies – and we're talking about the people at the frontline here – how they can improve particular issues that customers are facing."
It's an interesting concept and one that, in theory, makes good business sense. In ironing out any problems in testing rather than encountering them in real-life situations, reputation damage can be limited and customer retention improved. At this stage, the variety of scenarios Radiant could provide remains to be seen. But here at eConnect we think any innovation in improving customer experience has to be a welcome one.