By mGage
With 89% of consumers willing to switch to a competitor after a bad customer service experience[1], the importance of good customer service cannot be overstated. In the recent climate, increasing pressure has been placed on contact centres across various industries. Contact centres are costly, not just because of the resources required to operate them but also because of the impact they have on the customer experience. Therefore, it is crucial that businesses explore new channels that can help improve the contact centre performance – which is where mobile messaging solutions come in.
Why Mobile Messaging for Contact Centres?
There are currently 5.2 billion[2] mobile subscribers across the globe and with increasing time spent on mobile phones – the average person's screen time is 3 hours 15 minutes a day[3],   messaging has become the leading form of communication. Public affinity for mobile messaging has led to 9 out of 10 consumers[4] preferring to message businesses as opposed to calling or emailing them.
Businesses are already seeing the benefits of mobile messaging such as increased customer loyalty and a reduction in operational costs, with 97% of companies finding they communicated more efficiently with consumers after launching texting initiatives[5].
Different Mobile Messaging Channels to Consider
SMS (or texting) Messaging
SMS, often deemed a more traditional form of messaging, is still a widely used and valuable tool in customer engagement, consisting of 160 basic characters ideal for a variety of uses. In fact, SMS has a 20x higher engagement rate than Email, Voice & Facebook[6].
With 98% of SMS messages being read in less than two minutes [7], SMS can be a very effective way of providing customers with the timely customer service updates they want. They can also utilise the SMS chat feature for two-way engagement where a consumer can ask a brand a question. A text can also be sent alerting the customer of when they are experiencing high call volumes with a call-back option. This helps alleviate some of the pressure on contact centres.
Rich Communication Service (RCS) Messaging
RCS is the next generation of SMS messaging. It brings the familiarity of SMS and adds rich media and interactive functionality which has led to RCS having a 14x higher engagement rate and 13x With the added interactive features such as suggested responses and actions, images, carousels and more, RCS creates a conversational and seamless experience for end-users, similar to that of an app.  Rather than the user having to text back a response to the brand they can tap a button from the suggested responses to navigate to the information much quicker.
Push Messaging
Push Messaging are notifications that can be delivered to the mobile device. The app does not need to be open for messages to be received therefore the message will be displayed on the smartphone's 'homepage' until the user taps or deletes the notification, maximizing the messages visibility. With a 90% deliverability rate and a 7x higher click rate than email [9], push notifications are proven to improve engagement and customer retention.
How Mobile Messaging can help Contact Centres  
Streamline post-purchase customer service
72% of customers blame their bad customer service experience on having to explain their problem to multiple people[10]. This highlights the importance of gathering as much information as quickly as possible regarding the customer query prior to a call with a live agent to ensure that the query is directed to the right team with the required knowledge.
An SMS chatbot can act as the first point of contact by using a pre-programmed list of questions that the customer service team can gather before the call. Using SMS allows customers to send quick messages with the key details.
Another way to improve engagement and reduce contact centre strain is by offering call-back requests via SMS. This reduces the number of customers being left on hold which directly affects the overall customer satisfaction with the service.
Offer viable alternative calls
As we know, customer service is essential but can be a very costly function for businesses. Mobile messaging has now become a more viable option to replace the need for calling contact centres with the introduction of more interactive messaging solutions as well as helping reduce the strain on contact centres due to the high volumes of incoming calls.
A messaging option like RCS can use suggested options and image carousels to automate simple inquiries that would be costly for contact centres to process instead. The image below shows how RCS can be used to make changes to a scheduled delivery in seconds.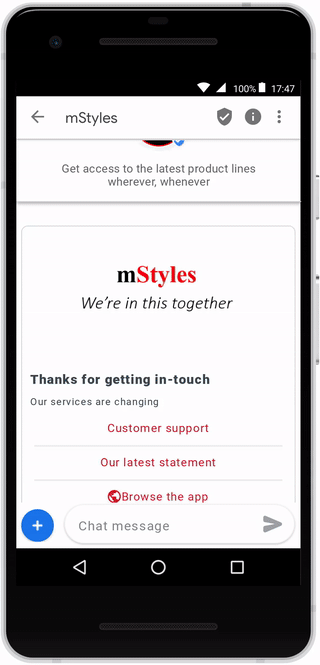 Increase engagement, reduce wasted time  
The most significant benefit of mobile messaging solutions is the ability to send messages in an instant, providing real time updates and resolutions to customer inquiries. This reduces the number of customers calling contact centres for updates on existing cases and allows customer care agents to better prioritise and manage queries.
Push messaging is a great way to provide updates and reminders to customers, as they appear as notifications immediately visible on phone screens, making customers feel informed and valued.
Final thoughts
Messaging solutions can be a cost-effective alternative that can support contact centres and improve the overall customer experience. These are just a few of the options available to businesses today. To learn more about messaging solutions you can use in your customer engagement strategy, get in-touch today with mGage.
References
[2] GSMA Mobile Economy
[3] Rescue time blog
[4] Agility PR
[5] mGage.com
[6] Mobile xco
[7] adobeblog.com
[8] mGage.com
[9] e-goi
[10] Salesforce