By mGage
When it comes to customer service, consumers expect speed, convenience, and flexibility. By leveraging text messaging for customer service, you can be available when and where your customers need to reach you.
Top companies use text messaging for many customer service applications, including…
Fraud Alerts
One-Time Passwords (OTP)
Balance Checks
Payment Reminders
Payment Confirmation
Appointment Management
Customer Surveys
Package Delivery
Shipping Receipts
…and more! Keep reading to learn why texting is such a popular choice for customer service and how it benefits companies and consumers alike.
Your Customers Want to Reach You Via Text Message
Texting is a fast, convenient platform that customers already have access to and use daily. A May 2020 Dimensional Research survey found that offering text messaging for customer service is still relatively uncommon, with only 43% of survey respondents indicating that they offer this channel.
This is surprising because customers and brands alike have positive sentiments towards text messaging. The same study found that 73% of internet users rated their last experience text messaging a customer service agent as good or excellent, and 58% of companies said it has reduced costs.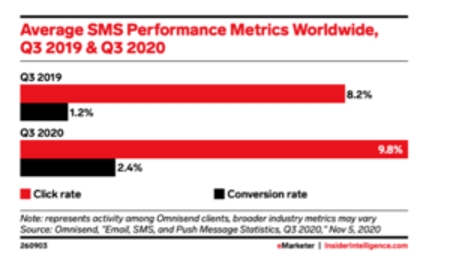 Customers may have once hesitated to let companies reach them on a channel they typically use for personal communications, but not anymore. Data from Omnisend shows that the engagement rate of text messaging continues to climb on an annual basis. Consumers clicked on links in SMS messages an average of 9.8% of the time. This is impressive, considering the average click-through rate for emails is 2.5%[1]
With texting, you can integrate automation with human-touch for faster response times and higher customer satisfaction while also lowering costs.
How Does Using Text Messaging for Customer Service Improve Satisfaction?
Consumers increasingly seek out fast and easy messaging options in their interactions with companies. Two-thirds of people said they're only willing to wait on hold for two minutes or less, and 13% said that there's no acceptable amount of time to wait on hold[1].  With messaging, customers can reach your company immediately on their own terms.
With text messaging, you can take the following actions that are linked to higher customer satisfaction…
 Personalize your messages based on contact data
 Know your customers by collecting information throughout the texting process
 Integrate with your CRM and other providers using SMS APIs
 Enable Self-Service with automated responses and workflows
 Send Automated Reminders about automatic renewals, upcoming charges, and more
 Get Feedback with interactive, customizable surveys
How Does Using Texting for Customer Service Lower Costs?
Offering text messaging as an option for customer assistance reduces costs in many ways, some more obvious than others. The average customer service phone call costs about $16, whereas the average text thread costs between $1 to $5 per interaction[1] (including cost of the care agent's time).
Text messaging can also significantly reduce missed appointments, which are a massive expense for many industries. For medical providers, missed appointments cost $150 billion annually in the United States alone[2]. Text message appointment reminders have been shown to lower no-show rates by 38% and reduce rescheduled or canceled appointments to less than 5%[3].
Automation can be used to address common concerns, like account balances or shipping status, which saves on cost and improves customer satisfaction because answers to time-sensitive questions are immediate.
Companies save money by using texting to…
 Decrease inbound calls
 Reduce missed appointments
 Enable automated updates and account management
 Offer real-time status on mobile orders, deliveries, bills, payments, issues/outages, and more
Case Study: Financial Services Company Delivers 80 Million Customer Messages Annually
One of the world's largest financial services companies needed a way to deflect low-priority requests from around the world away from their busy call center. They hoped to also reduce costs and improve customer satisfaction.
The company implemented text messaging to enable payment confirmations, request one-time passwords, send critical account alerts, and more. By leveraging mGage's SMS APIs, they have generated a 10 percent decrease in call center services costs with at least 80 million customer experiences handled via text annually.
Integrating Text Messaging with Other Channels
Omnichannel customer service is quickly becoming the norm. Customers prefer to use different channels for different questions. A quick question about where their package is, for example, might be handled via chat. A more complicated scenario, like a stolen package, might warrant a phone call. By allowing customers to select the appropriate channel, organizations give them more options to interact on their preferred channels.
Companies that invest in messaging as an option for customer service now will be ahead in years to come. A Dimension Data study showed that less than 30% of people born after 1990 prefer to get help via phone, compared to almost 60% of Baby Boomers.
A messaging platform that enables integration with your CRM system and other customer service channels is the best way to deliver a customer service experience that is easy and consistent across channels. By collecting data across channels, you can also personalize interactions.
Consumer preferences are constantly and rapidly evolving. Companies with a flexible, scalable solution to serve customers via multiple channels, including text messaging, will be well-positioned to compete on customer experience, a critical point of brand differentiation.
If you're ready to get started, contact us today! 
[1] Forrester
[2] SCI Solutions
[3] Klara
[1] Arise