With brands searching for innovative and new ways to engage their end-users they can now unlock the benefits of RCS (Rich Communication Services) business messaging. RCS is truly a conversational channel that is transforming the messaging landscape as it speaks to the need for customers to receive more personalised, richer, and engaging messaging.
RCS compliments customer service functions as its fast, efficient and an effective channel which is less resource intensive and helps reduce the strain on call centres. Using the interactive features such as suggested actions and suggested responses allows businesses to quickly respond to customer enquiries. The carousel and rich card features create a visually more appealing message that helps navigate users to information.
On top of this you have the verified sender and personalised branding that provides familiarity and trust which makes customers more likely to interact with your RCS message.
Automating Customer Experience
By enabling RCS messaging, brands can create automated conversations to make the customer experience seamless and efficient.
Click the image below to see a video example of how RCS is used to perform a simple task like updating a delivery: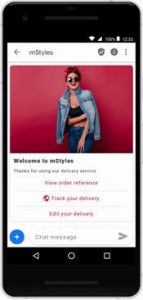 Can't see the image? Click here to view the video!
Other RCS use cases include
Gathering customer feedback
Schedule a call-back
Enquire about an order/delivery
Re-schedule appointments/meetings
Get account updates
Successful businesses stay up to date with current and future customer demand by adapting to new technologies in the digital era.
To learn more about how you can incorporate RCS into your customer service operations then please get in-touch with mGage today!