Denmark-based Jabra is a manufacturer of earbuds, headsets, portable conferencing devices and more.
Jabra Biz 2300
Jabra Biz 2300 is a headset designed and developed with contact centre agents in mind. Built to survive in a high-performing contact centre, the Biz 2300 will result in fewer headset replacements and less agent downtime: all helping to lower the total cost of ownership. Including a reinforced cord that can withstand the rigours of daily contact centre use such as office chair wheels and sharp objects, the Biz 2300 also features a 360 degree FreeSpin™ rotating boom-arm for zero risk of breakages.
Call quality is vital for busy contact centres, so the Biz 2300 provides lifelike conversations via it's specially designed 'air-shock' noise-cancelling microphone that filters out sharp breathing sounds and popping noises within conversations. HD Voice technology ensures agents can clearly hear their customers and the Biz 2300's speakers reduce ambient noise, so the agent can focus on the conversation, leading to increased customer satisfaction.
All-day comfort is imperative for contact centre workers and the Biz 2300 supports this by being extremely lightweight at only 49g for the Mono variant and 68g for the Duo, while also featuring an adjustable headband and boom-arm for optimal fit. Employee health and safety is covered with the Biz 2300 via it's in-built PeakStop™ technology that removes sudden loud sounds above 118dB before they reach the agents ear.
Jabra BIZ 2400 II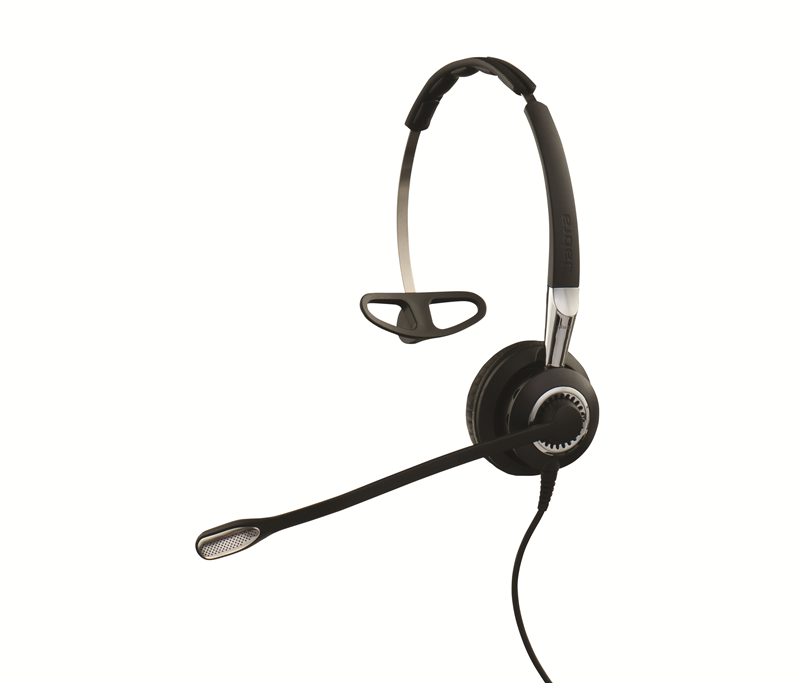 The Jabra BIZ 2400 II is a corded professional headset that delivers outstanding sound at both ends of every call. In a high-energy contact centre environment, it is vital that your headset can screen out background noise to ensure the customer can hear your voice clearly. The Jabra BIZ 2400 II delivers this, with an ultra noise-cancelling microphone that provides the highest level of noise-cancellation of any of Jabra's solutions. PeakStop™ technology filters out any sound above 118 db, eliminating any sudden loud sounds or tones before they can disrupt the call.
High definition sound and ambient noise-blocking speakers ensure you can stay focused on the call or enjoy crisp, quality music while you work. The headset's built-in HD Voice technology improves voice sound quality while its noise-cancelling mic eliminates unwanted breathing and popping sounds during conversation. It ensures you can always be heard and understand the conversation no matter how noisy your environment.
The Jabra Biz 2400 II is built to last, with a reinforced cord that protects it from daily wear-and-tear, including office chair wheels and sharp objects. It's mic boom-arm is also designed for maximum ease and flexibility, able to rotate 360 degrees with no risk of breaking. Despite its robust design, the headset is 40 per cent lighter than other high-end headsets and features an adjustable headband, super-soft leatherette and ear cushioning. It delivers greater comfort and more productive calls.