The Contact Centre & Customer Services Summit is a highly focused event that brings together contact centre and customer service buyers and suppliers, for one-to-one business meetings and valuable networking opportunities; in less than two days!
The event will guarantee:
– An audience of pre-qualified buyers
– Selected and 'matched' meetings
– No time wasters
– No hidden costs
– Just face-to-face sales meetings throughout!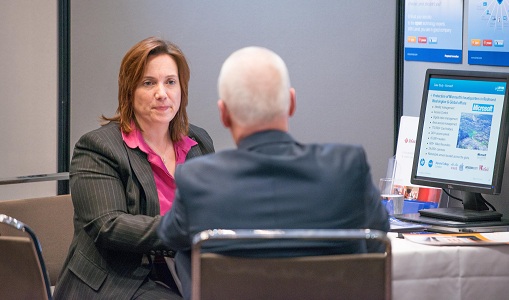 Tailored to meet your requirements like no other event.
Your time is precious, valuable and limited. At the Summit, we will deliver a first-rate return on investment, and put you in touch with contact centre professionals who have specifically asked to meet you, would like to discuss your products and services, and are pro-actively looking for contact centre solutions.
The Summit also offers an unparalleled opportunity for you to promote your service solutions to senior decision makers, who have the authority to spend and are reviewing their current suppliers.
Key benefits
We organise personalised appointments for contact centre and customer service buyers and suppliers to meet in their own dedicated meeting booth. Each supplier will have a series of 25 minute meetings with key decision makers over the two days.
You are guaranteed a captive audience of professionals, pre-selected and matched meetings, and cost effective measurable ROI, without any time-wasters and hidden costs.
Testimonials
'Excellent Summit with genuine buyers and senior people seeing what is new for forthcoming projects; no time wasters.'
'We found the Summit to be an excellent investment of our time; a pleasant and productive way to meet new customers.'
'As always, the Summit delivered great meetings with decision makers; this event gets better every year'
'Another great bunch of interested, potential customers, ready for follow-up meetings.'
In the run up to the event, you will be sent login information for our online pre-event selection process. From here, you will be able to confirm your details, shortlist and prioritise delegates you would like to meet at the event, add information on the representatives attending the event (including dietary or accessibility requirements) and review and submit all of your information.
Working on selections that you have made online, and those from attending delegates, we put together individual itineraries following the priorities below:
Perfect matches; where a delegate and supplier have both requested to meet one another
Delegate requests; where a delegate has an interest in a supplier's product/service
Supplier requests; where suppliers have registered an interest in meeting a delegate
You will also have the opportunity to select industry-lead seminars and case study sessions, which will take place over the course of the event. These will also be added to your personalised itinerary.
Once you have your online login, you will be prompted to upload your single A4 page company profile, logo and synopsis, as well as selecting products and services that you provide. This will enable delegates to see some information on your organisation, and select to meet with you closer to the event. This process is all explained to you in more detail closer to the event.